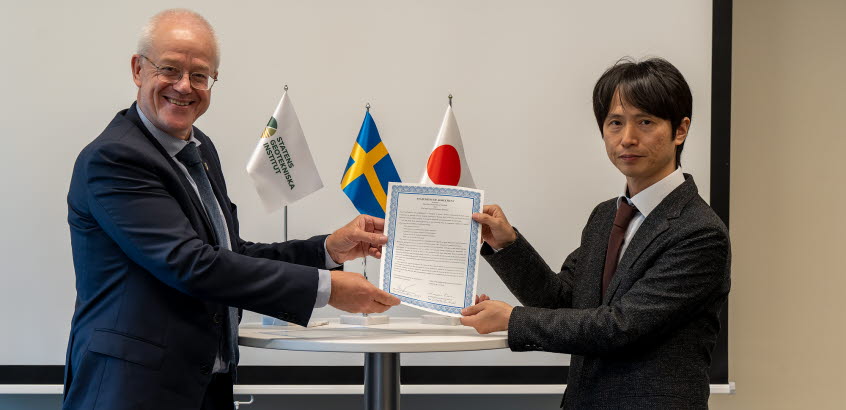 Photo: Torbjörn Thuresson/SGI
Johan Anderberg, CEO of SGI, renewed the agreement alongside Dr. Hidenori Takahashi of PARI.
SGI collaborates with Japan on soil stabilization from a sustainability and lifecycle perspective
9 October 2023, 08:17
SGI was visited by the Port and Airport Research Institute (PARI) from October 3 to 5. During the visit, our collaboration agreement was renewed, allowing SGI to further enhance its expertise in soil stabilization.
"Our collaboration has been ongoing for over 25 years, and our partnership agreement has been renewed for an additional 5-year period. We are very positive about continuing the exchange between our institutes as it provides opportunities for research and experience sharing in an important area - soil stabilization," said Yvonne Rogbeck, responsible for international cooperation at SGI.

This year's visit focused on sustainability issues and a lifecycle perspective. In Japan, there is a strong interest in finding methods to reduce carbon dioxide emissions from foundation work and to sequester carbon dioxide in the soil through stabilization. The Japanese delegation presented ongoing projects related to this. Xingqiang Song from SGI conducted a short course on systems thinking and lifecycle analysis (LCA).

"We also presented and exchanged experiences regarding laboratory methods, long-term durability, and how LCA and lifecycle cost analyses can be integrated into geotechnical design. The meeting was attended by representatives from the Swedish Transport Administration (Trafikverket) and the Royal Institute of Technology (KTH). There are many interesting research questions that we look forward to addressing together with PARI," Yvonne Rogbeck added.


Page was updated 2023-10-09